One of the best parts about going out to eat, be it a sit-down restaurant, or fast food, is the french fries. They are one of the most popular sides to an entree, and come in all shapes and sizes for people to enjoy. People can order Belgian fries, waffle fries, tater tots, standard cut, curly fries, crinkle cut, shoestring, steak fries, potato wedges, and sweet potato fries. All of the variety in the cuts does not even begin to capture the variety of the methods of preparation, flavors, and spices that are added to increase the enjoyment of the fries.
Most people believe the only way to get great fries is by ordering them at a restaurant or your fast food joint of choice. However, this is far from the truth. There are many brands that manufacture different varieties of fries that, when prepared correctly, can be best enjoyed in your own home. In fact, some restaurants even sell frozen iterations of their fries to further their popularity. Finding a brand and style of frozen fries that you like is a great way to not only save money by staying in, but also has health benefits, as frozen fries are often healthier than restaurant or fast food fries.
Looking for the best frozen fries brand to satisfy your craving? Read on to see the 12 best frozen french fry brands, ranked from pretty great to absolutely delicious.
Market Pantry Crispy Shoestring Fries
Giovani Dressler/Shutterstock
First on the list, and, though still delicious, is the least desirable of the bunch — the Market Pantry Crispy Shoestring Fries. Shoestring fries are often hit or miss, because of their thin nature that lacks the substance of most french fry cuts. The fact that they are called shoestring is a reference to their small, shoestring-like density. This kind of fry is certainly not for everyone, and are often prepared to be too flimsy, but can be found at some steakhouses to accompany the meat, or at the fast food chain Steak 'n Shake.
The Market Pantry Crispy Shoestring Fries are slightly thicker than other options of this small fry cut. They are made from 100% real potatoes, and contain 0g of trans fat per serving. This brand does not contain any of the eight major allergens, and weighs 26 ounces. Because these shoestring fries can often be disappointingly flimsy, it is best to prepare them in an air fryer with the addition of some salt, or other spices you prefer in order to enhance the crispiness and flavor. However, if you do not have an air fryer, placing the fries on parchment paper and preparing them in the oven according to package instructions will work just as well.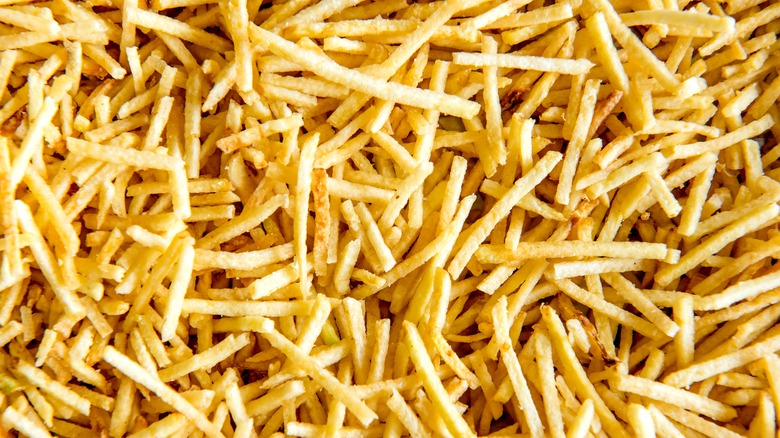 Lamb Weston Super Crinkle Cut Fries
Lamb Weston
Another classic french fry cut is the crinkle cut. These fries are average in thickness, but possess a unique, wave-like structure that adds a nice texture to the bite. Fast food restaurants like Raising Cane's or Arby's sell this type of fry more often than sit down restaurants. However, they are available in frozen iterations as well. One of the best examples of the frozen crinkle cut fry is the Lamb Weston Super Crinkle Cut Fries.
These are a half an inch crinkle cut that have an inner fluffy potato texture with an outer golden crispiness. The cut is advertised to be less prone to breaking than other fries because of its thickness. Additionally, the potatoes Lamb Webston use come from the Pacific Northwest, which are grown in rich, old volcanic soil with natural water. Though these fries are also best prepared in the air fryer and with the addition of salt and spices, they can also easily be prepared in the oven if you are looking for a softer taste.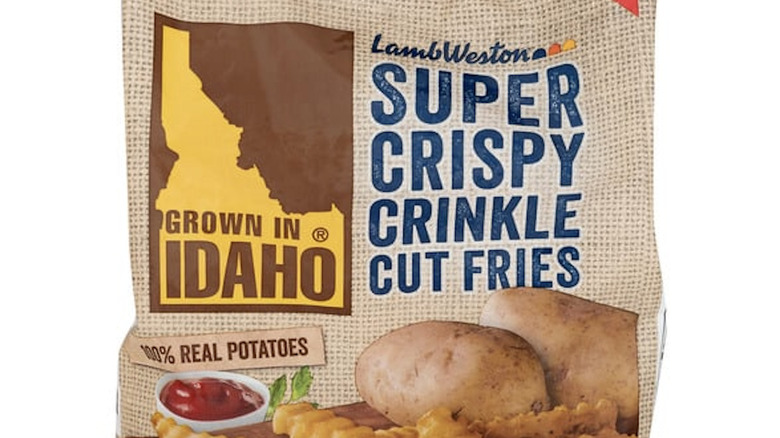 Checkers/Rally's Famous Seasoned Fries
Checkers/Rally's
For anyone who has eaten at a Checkers or Rally's locations, you have certainly tried their "Famous Seasoned Fries." The side is described as being "Secretly seasoned. Famously good. And made just for you." These fries are seemingly coated in a thin batter with added savory spices, like paprika and garlic powder to enhance the straight cut, half-inch thick fries. As of 2022, there are 860 Checkers and Rally's locations across 476 cities and 30 states and territories. Though these restaurants are mostly located in the east and the midwest, there are some locations out west as well.
Even though there are many locations to choose from, some people would prefer to have Checkers/Rally's at home. That is why Checkers and Rally's offers their signature seasoned fries in frozen form for anyone to buy and prepare at home. They come in a 28 ounce bag and have 0g of trans fat per serving. They are seasoned prior to being bagged and frozen, but you are free to season as you wish after preparing them. An air fryer will provide the best results and crispiness, but the oven can work just as well. The packaging also gives instructions on how to deep fry the french fries for maximum deliciousness.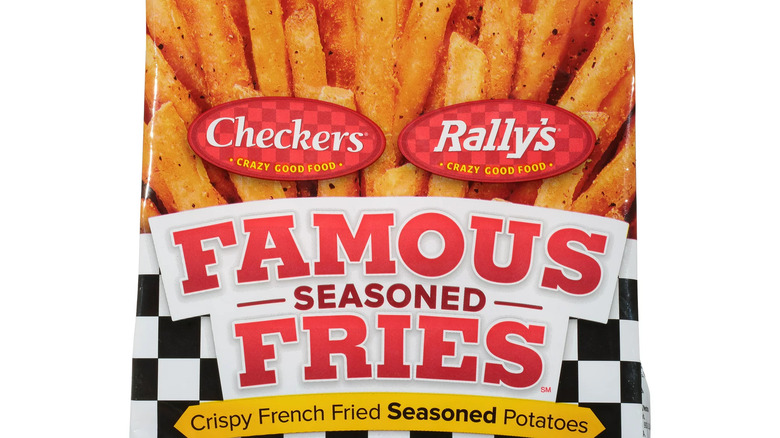 Nathan's Jumbo Crinkle Cut French Fries
Nathan's Famous
The crinkle cut of fries is quite popular with frozen french fry brands, likely because of the fancy looking waves that can spice up any regular meal at home. Though the aforementioned Lamb Weston Super Crinkle Cut Fries are a wonderful choice, the Nathan's Jumbo Crinkle Cut French Fries are the clear winners of the crinkle cut style. Nathan's Famous brand has been around since 1916, and is best known for its hot dogs. Additionally, the brand makes variations of hot dogs like pretzel dogs, hot dogs in puff pastry, and bagel dogs. However, they also do many other sides like mozzarella sticks, pickle chips, and, of course, french fries.
Nathan's Jumbo Crinkle Cut French Fries come in 28 ounce bags and contain no trans fat. As far as preparation, the air fryer and oven are both viable options to cook these fries. They are also plain, so adding some salt and other seasonings will greatly increase the flavor. Some reviewers even recommend these fries as a perfect base for chili cheese fries, because of their large, thick cut that can hold many toppings. However, another reviewer said that these fries are so good that no condiments are needed.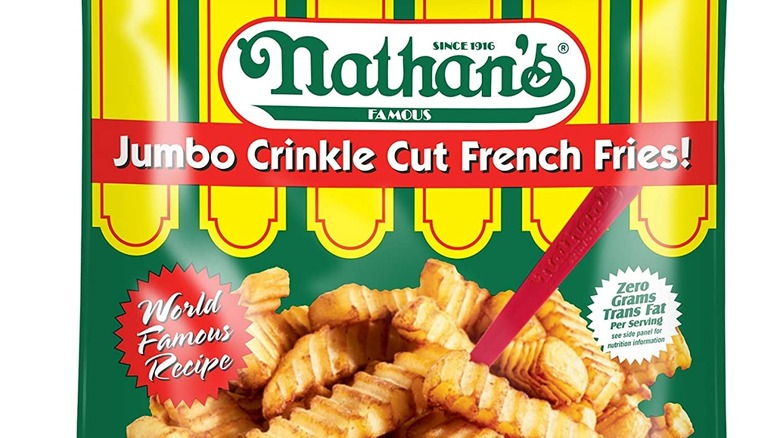 Red Robin Frozen Steak Fries
Red Robin
If you've ever been to Red Robin, you know they specialize in their thick, delicious steak fries. These fries are the perfect side to any dish, particularly their cheeseburgers, wraps, or even as an addition to a Red Robin salad. What makes these fries special is not only their structure and fluffy insides with crispy edges, but also the restaurant's signature seasoning blend sprinkled all over them. This seasoning is the restaurant's star item, and though it pairs well with many of the dishes, it is perfect for the steak fries.
The Red Robin brand agrees with this as well, and created a frozen version of the seasoned fries to prepare and enjoy right in your own home. These fries are just like the ones you order at Red Robin, except just not as fresh as you'd get at the restaurant. Preparing them with an air fryer or oven is the way to go, but if you have the means to deep fry the steak fries at home, that will be your best option. Additionally, Red Robin also sells its seasoning as a spice that you can buy and use on other foods, so if you feel like you want more to add to the fries after preparing them, you have that option.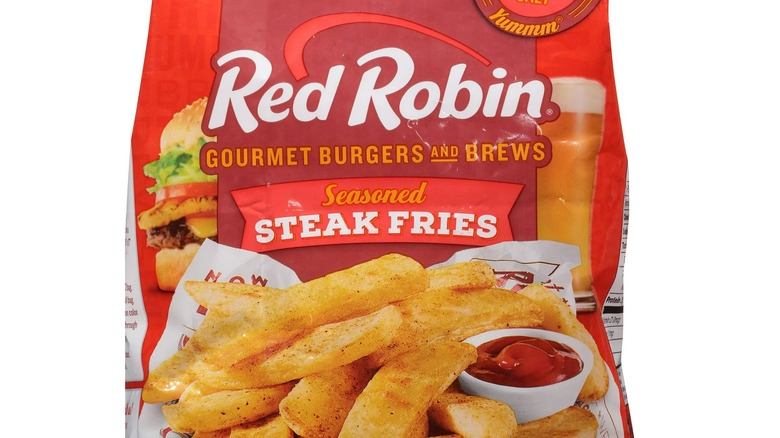 Ore-Ida Golden Crispers
Ore-Ida
Many brands have found ways to perfect the crinkle cut fries, which is why another great option for frozen french fries is the Ore-Ida Golden Crispers. Ore-Ida operates out of potato farms in the Pacific Northwest, and their name comes from the combination of Oregon and Idaho — a sign that they are proud to grow their potatoes there. Since 1952, Ore-Ida has prioritized the quality of their products, making tater tots, french fries, and other potato-based items.
However, one of their most popular products is the Golden Crispers, made from 100% real potatoes. To prepare them, Ore-Ida takes the potatoes and cuts, seasons, and freezes them within one hour. Once they "lock in all the delicious, freshly cooked flavor," they create the wavy look of the crinkle cut fries and package them to freeze and prepare at home. Though they emphasize their own spices, the Golden Crispers can be spiced and garnished however you'd like after preparing them.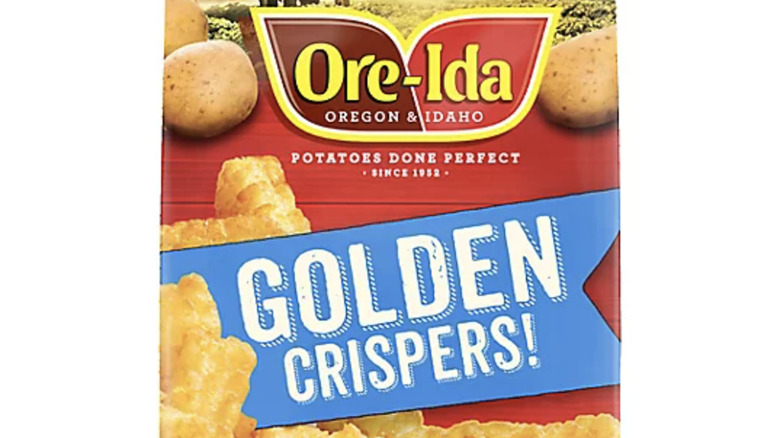 Trader Joe's Handsome Cut Potato Fries
Trader Joe's
If you think of the most classic style of french fries, you are likely picturing the Trader Joe's Handsome Cut Potato Fries. They are an excellent, timeless side dish that is taken to a new level with by the popular store. These fries taste about as fresh as you can imagine, especially when prepared in the oven or air fryer. They are a standard size and are more on the plain potato side than the seasoned side, so you are free to add whatever other garnishes you would like.
Trader Joe's has other kinds of fries, like their waffle fries and sweet potato fries. However, the plain frozen fries are by far the best of their available options, and are easy to prepare however you see fit. You can cook them according to the package's instructions, or you can cook them until they are as crispy as you would like. Either way, you will certainly enjoy these fries plain, in other dishes, or seasoned.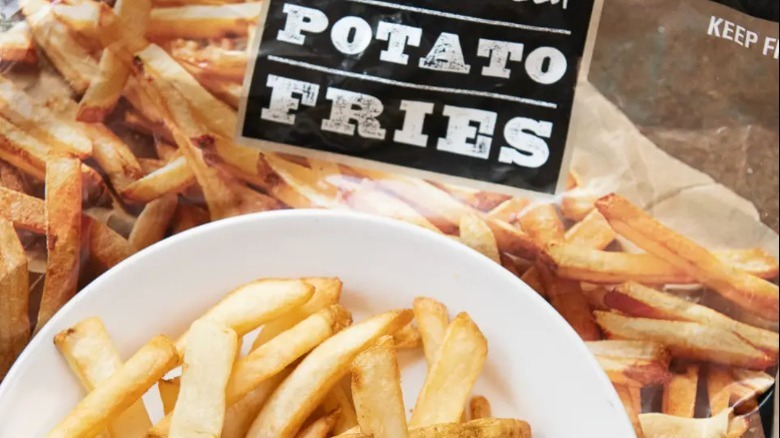 Ore-Ida Golden Fries French Fried Frozen Potatoes
Ore-Ida
Another great take on the classic fry comes again from Ore-Ida in the form of their Golden Fries French Fried Frozen Potatoes. These fries are made from 100% real potatoes that have been grown in the Pacific Northwest.
Their Golden Fries come in a 32 ounce bag, and are true to their name: golden. They are best prepared in the air fryer for crispiness, but can absolutely be made in the oven or by deep frying it over the stove. What's stands out here, is that there are no trans fats, and they are gluten free. Because these fries are straight cut and plain, they will definitely require some spices, condiments, or at least salt to increase their taste. These fries are also great for making chili cheese fries, or other dishes where they are the base for other delicious toppings. Simply put, the Golden Fries are a classic option and are delicious for any occasion.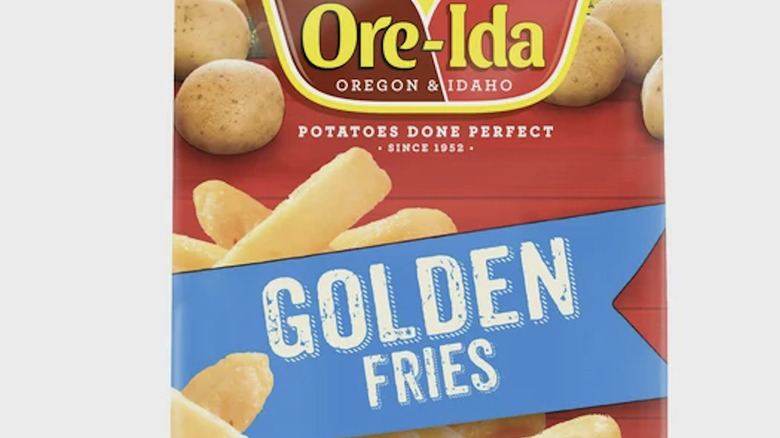 Alexia Seasoned Waffle Cut Fries
Alexia
Arguably the best cut of fry is the waffle fry, which has been appropriately named for its waffle-like appearance. They are thick by nature, taking up a lot of space to appear like mini waffles. These fries are available at fast food chains like Chick-fil-A, and some higher end restaurants. Alexia makes these, inspired by their Manhattan chef, Alex. He would develop recipes until perfection, and the brand was born. Additionally, Alexia provides recipes on its website to encourage people to use the fries in unique and creative ways, or to provide flavor enhancing tips for the fries by themselves.
The brand's Seasoned Waffle Cut Fries are a classic. The spices are delicious and translate well after cooking them in whichever way you choose. They make an excellent base for the website's recommended chicken shawarma fries, some classic chili cheese fries, or nacho fries. On their own, though, they are perfect with just a bit of ketchup on the side, and a huge appetite.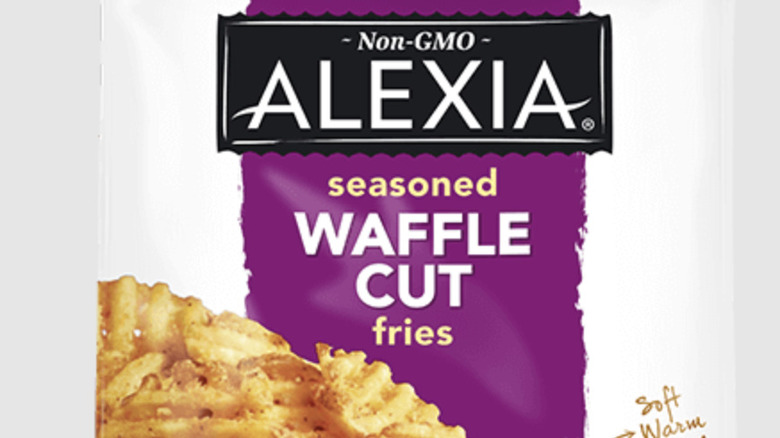 Alexia Sweet Potato Fries
Alexia
In addition to the Seasoned Waffle Cut Fries, another great product from the Alexia brand is the Sweet Potato Fries. Though there are not many sweet potato fries on this list, the Alexia Sweet Potato Fries easily make the cut. Because they are from the Alexia brand, the Sweet Potato Fries have many different options present for foodies to use in preparing. One such option is the cinnamon sugar dusted sweet potato fries, which take less than 30 minutes to prepare and provide a great dessert option.
These fries are versatile, though. You can easily take other recipes you find online, or on the Alexia website and use them to make something special from a simple frozen bag. However, just like the Alexia Seasoned Waffle Fries, these Sweet Potato Fries are incredible on their own. They will perfectly complement any fry board, or just serve as a nice sweet treat to mix up your normal french fry consumption. They do not require a sweet preparation, though, as they pair well with broccoli and other savory vegetables.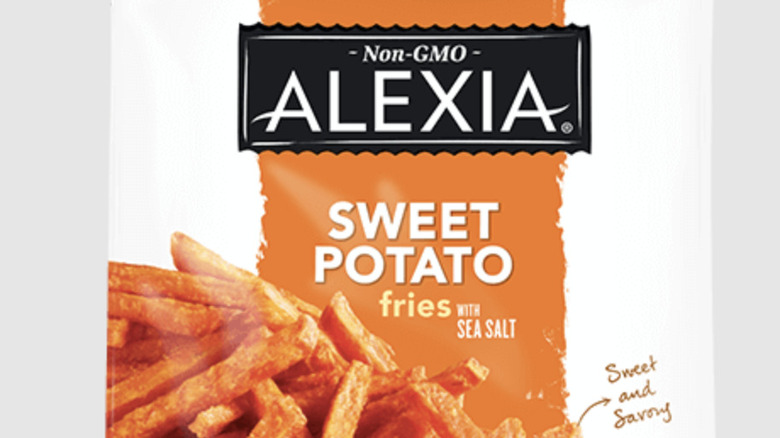 Arby's Seasoned Curly Fries
Arby's
One of the best fast food fry options comes via Arby's Curly Fries. Though Arby's also has crinkle cut fries, the Seasoned Curly Fries are a next level experience, especially for the fast production of the drive thru. The potatoes are sliced up, curled, and fried with no trans fats. As a result, these fries have become a staple of the brand, and for good reason. Because of their fame, it makes perfect sense that Arby's would create a way for you to enjoy their fries at home, while still turning a profit.
So the company froze the Seasoned Curly Fries and bagged them for purchase. The crispy spirals are very easy to make with the help of an air fryer, oven, or even hot oil. They are already well seasoned, and this translates greatly to the at-home version of the fries, so you will not need to worry much about what condiments or spices to add to the fries. However, a little ketchup never hurts.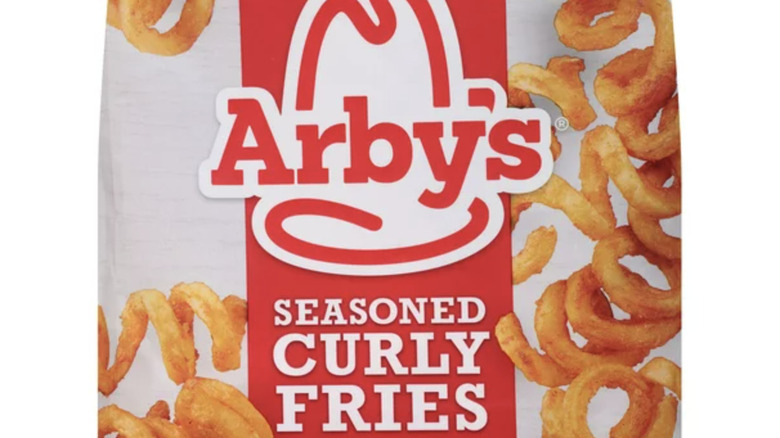 Grown In Idaho Hand Cut Style Fries
Grown in Idaho
Finally, the best frozen fries to make at home are the classic style, Grown in Idaho Hand Cut Style Fries. Though it may be surprising that one of the more intensely seasoned fries or special cut fries did not take the first place slot, it is nearly impossible to beat a classic. And that's what Grown in Idaho has created with the Hand cut Style Fries. Made from 100% real potatoes, these fries are crispy on the outside, and fluffy to perfection on the inside.
These fries are not particularly seasoned, and advertise that they can be enjoyed with ketchup on the packaging. Preparation should be as you see fit per package instructions, and as far as spices go, you would do well to pick out a few spices like paprika and garlic powder to complement the classic potato flavor. You won't be disappointed when preparing these fries at home, because they are the most structurally sound and reliable frozen fries you can buy on the market.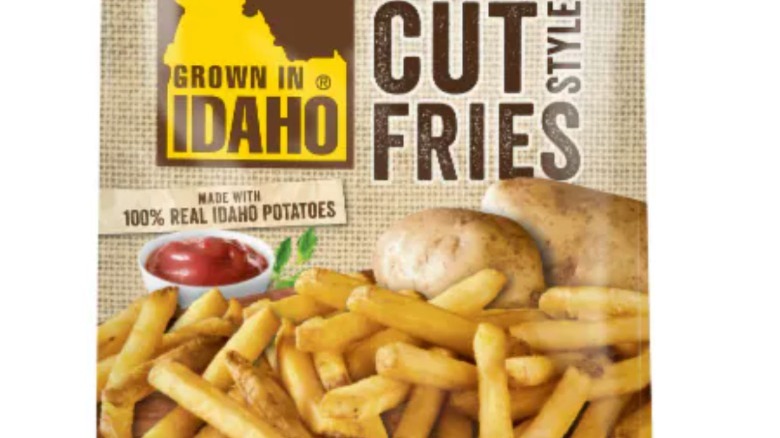 A source: https://www.thedailymeal.com