About 200 Cochabamba women are dedicated to organic production and to implementing the technique of agroforestry systems in their urban gardens, with the aim of promoting the responsible consumption of fresh and seasonal foods.
It is very difficult to implement organic production, but out of love for Mother Earth and to improve the nutrition of the population, we do not use chemicals or pesticides in our production," said Nelly Camacho Arizpe, representative of the Participatory Guarantee System (SPG) of Cercado.
In his garden, located in the Taquiña area of the capital Valluna, he produces tomatoes, beets, cilandro, spinach, onions, lettuce, among others.
Women are constantly training themselves to produce and innovate their urban gardens and work together with their families. They also raise different animals to produce natural fertilizer and make compost.
In turn, Blanca Nogales, a community member from Tirani, reported that she produces more than 50 varieties of vegetables, fruits and vegetables on her plots, but regretted that this year there is no good production due to the lack of water. "In my garden it's all organic production, zero chemicals, and I prepare my own bio-inputs," she added.
Production process
The head of the Metropolitan Region Program of the Agrecol Andes Foundation, Alberto Cárdenas, informed that this institution works on organic production with urban, peri-urban and rural families, with the main objective of removing the use of agrochemicals.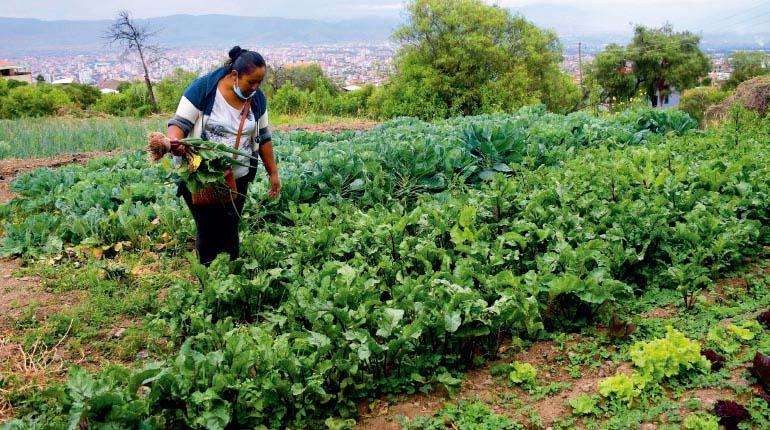 "We want production to be more environmentally friendly, combining different agricultural techniques, such as agroforestry systems, urban agriculture, open field. In addition, we want producers to stop being dependent on external inputs, and to be able to produce seeds, their bio-inputs in case a pest or disease appears. And the most important thing is that we want to close this chain with the harvest, post-harvest and commercialization"" he explained.
Cárdenas said that BolSaludable promotes and markets fresh and processed products from producing families in the urban, peri-urban and rural areas.
Initially, the production was intended to be marketed in an organic products store. However, due to circumstances caused by Covid-19, a mobile food delivery system was established at home. People interested in healthy bags can shop from the comfort of their homes or offices, choosing from a list of food and artisan products.
Work of the Agrecol Andes Foundation
The population can choose or assemble their order until Wednesday at 18:00, and the delivery is on Friday. To receive this product offer, you can contact the cell phones 72241860 and 72255007. The producers that are part of this project belong to Cercado, Taquiña, Tirani, Sacaba, Quillacollo, La Paz, Tarija and Villazón. The system consists of producers sending a list of more than 150 products, such as Swiss chard, onion, broccoli, cauliflower and others.
A source: https://www.lostiempos.com